That is the question a lot of hoteliers, and vacation rental owners have debated in recent years. Perhaps now, more than ever, it is time to ask yourself if cutting the cable and offering streaming TV is right for your property.
Even before the current global pandemic, traditional TV subscriptions were at an all-time low. A record six million customers opted out of standard pay-TV bundles in 2019, and three million cut the cord the year prior. It's a trend that has only accelerated in 2020 as the coronavirus has wreaked havoc on linear TV while streaming platforms provide a steady dose of fresh content. A recent study found that one in three U.S. TV households no longer pay for a traditional TV-subscription.
Its annual study into media habits, Media Watchdog, Ofcom, suggested adults – many of whom were stuck indoors – spent 40% of their waking hours in front of a screen.
People watched streaming services, such as Netflix, Amazon Prime Video, and Disney+, for one hour 11 minutes per day, and 12 million people joined a service they hadn't used previously. Three million of these viewers had never subscribed to any service before: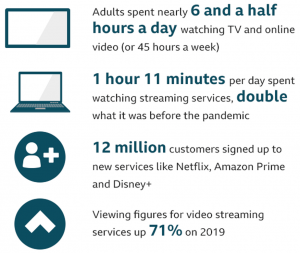 What do these trends tell us? It tells us that people are rapidly adopting streaming TV as their primary source of entertainment, and in the wake of Covid, this trend is only going to increase.
Are you prepared?
For more than a decade, Monscierge has worked with its clients to prepare them for the future of hospitality. As an official Apple Mobile Development Partner, we've created the #1 Guest Room Entertainment option for Hospitality TV.
Apple TV for Hospitality by Monscierge is the solution that gives you the best in entertainment options coupled with secure device management, so when a guest logs into a streaming service like Netflix or Disney+, their credentials get erased at check-out. Apple TV for Hospitality provides further consistency to the television experience by ensuring a standard high-quality user interface that features your branding.
If you're ready to bring streaming TV to your property, there's never been a better time to act. Schedule a Demo today and find out how fast and easy it is to upgrade and expand your guest experience with Apple TV for Hospitality by Monscierge.