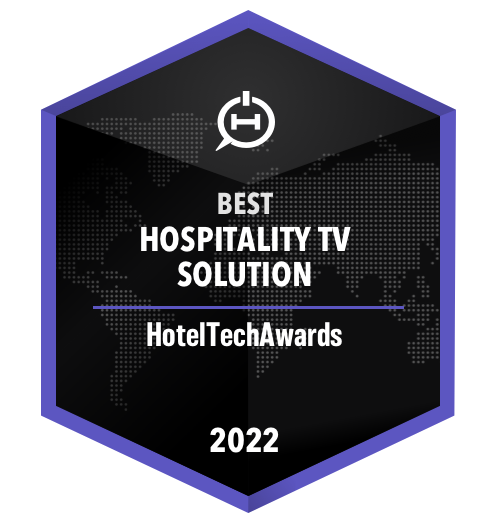 We're excited to announce that Monscierge has ranked #1 overall on Hotel Tech Report's Global Best Hospitality TV Solution list in the 2022 HotelTechAwards. The HotelTechAwards are produced by Hotel Tech Report, the leading authority on hotel software and digital transformation in the hotel industry. The HotelTechAwards rank the world's best hotel software companies and products based on authentic, timely reviews from real users. 
With over 2,232 software companies on Hotel Tech Report, Monscierge is honored to be recognized in the Hospitality TV category for 2022. 
"This recognition from Hotel Tech Report validates the work we're doing at Monscierge to improve guest-to-staff communication, enhance the guest experience, and increase staff accountability," said CEO of Monscierge, Marcus Robinson. "We've been working to empower hotels and vacation rentals with technology that helps create a more personal experience while at the same time helping to reduce operating costs."
The lists are based on data from over 11,000 verified customer reviews during the HotelTechAwards period. These reviews were written and published between September 1, 2021–December 15, 2021, with participation from every major hotel brand and thousands of independents.
"This isn't a subjective list based on a few peoples' opinions," explains Hotel Tech Report CEO Jordan Hollander. "With the highest traffic and engagement, largest selection of product and services, and highest quality data, Hotel Tech Report analyzes more than 100,000 data points to determine the best products in the market."
"Monscierge and their platform connect our love of hospitality and technology. It's helped us save money and transform our property digitally", says one Hotel General Manager from Orlando.
Browse dozens of verified Monscierge reviews and view the official press release
ABOUT HOTEL TECH REPORT
HotelTechReport.com helps 170k hoteliers understand the changing hotel technology and digital transformation landscape each month. We help hoteliers make more intelligent decisions about which technologies to adopt, keeping scalability and adaptability in mind. Hotel Tech Report helps hoteliers uncover the value propositions of emerging technologies and how they align with the needs of your property stakeholders and guests.